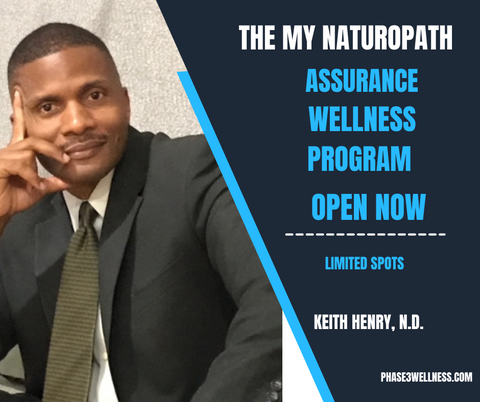 My Naturopath Phase 3 Wellness Assurance Membership Program
PLEASE READ THE BENEFITS OF THIS PROGRAM BELOW. TO SIGN UP FOR THIS PROGRAM YOU MUST CLICK ONE OF THE "JOIN NOW" LINKS BELOW. CHOOSE EITHER SINGLE/COUPLE OR FAMILY, YOU WILL THEN BE TAKEN TO A SEPARATE PAYMENT PAGE WHERE YOUR MEMBERSHIP WILL BE ACTIVATED AFTER PAYMENT.
When the coronavirus exploded upon the world there was essentially nothing offered as a solution... The solution was to wait on the development of a vaccine. As a result many people began to search out holistic or natural solutions. Additionally, many people found these solutions to be extremely helpful! Thus, the extreme value of a holistic or naturopathic approach can be seen even in life-threatening circumstances.
 "My Naturopath Phase 3 Wellness Assurance Membership Program!"
Quality alternative health information and services can be very expensive, and so we think that we have come up with a way to offer these high-quality services at a fraction of what it would otherwise cost by offering access to the... "My Naturopath Phase 3 Wellness Assurance Membership Program!"
The "My Naturopath" Phase 3 Wellness Assurance Membership Program is a three-tier program developed by naturopath Dr. Keith Henry There is a tier for singles, a tier for couples, and a tier for families.
How Does It Work?
In short, once you become a member, you get an incredible discount for any Health or Wellness service or product that  we offer...
Example Services:
(Example 1)-Basic Naturopathic consultation- One hour verbal consultation addressing any health concern.
 Non-Member Cost: $175 
 Member Cost- $50.00
(Example 2) Naturopathic Consultation + Written Specialized Protocol for a specific health issue *includes 3 follow-ups.
Non-Member: $450.00--
Member Cost $97.00
(Example 3) Naturopathic Consult Upgrade Package includes everything above plus blood tests and saliva hormone test and the first round of any recommended supplements or herbs: *Includes 4 Follow-ups:

Non-Member Cost $1500.00
Member Cost $500.00  
All members receive deep discounts on hundreds of high quality and practitioner grade supplements, and direction and suggestions on how to use them.
Additionally, each member account receives 1 free bottle of their choice each quarter from Dr. Henry's Phase 3 Wellness growing product line of supplements HERE. and a 50% discount otherwise.
          ***There are additional benefits that are planned for the members.***
                *** Limited Slots Available... Will Close When Slots Are Taken***
   *** 50% Off specific handmixed formulations  by Dr. Keith Henry like...
                                 Amazing "Eden Cleanse".
                                 Awesome "Pain Formula"
                              "Platinum Tumeric Formulation"
        Plus other unique formulations ONLY available from Phase 3 Wellness!
                                What's The  Cost For All Of This?
  As pointed out above there are  3 Tiers SIngle, Couples, and Families up to five members!
                          Singles: $60.00 Monthly- Click To Join Now!
                          Couples: $120.00 Monthly- Click To Join Now
        Family (Father/Mother) Up To 3 Children $250.00 Monthly- Click To  Join Now
Dr. Henry will still take non-member cases, but they will be at the full price for all services.
---
We Also Recommend